Dr. Michael Cherkassky is a Dallas weight loss doctor that specializes in medical weight loss. Dr. Cherkassky has helped many patients in Dallas lose weight without surgical procedures. In this interview a patient discusses her experience and success with the medical weight loss program.
My first name is Rosario, and I live in Fort Worth.
How long have you been coming to the weight loss clinic?
I started the medical weight loss program three months ago. I'm so, so happy. I was 189 and now I'm 162. I feel so healthy, so happy and my stress is gone [laughs]. Yes, it's a really, really good experience to be here with the doctor.
What other types of weight loss did you try before you started the weight loss plan?
I tried everything, all kind of pills, I've got a big box with pills because I tried so many different labels. Some did not do anything. Here at the weight loss clinic I got my diet plan. I follow the diet and everything is perfect.
Was there one specific thing that made you decide that you have to do something different about losing weight?
When we want to lose weight, we will try everything. Then one day somebody told me about this weight loss place and I said, "Okay, I'll try it." I'm here and I'm so happy. I did not do anything for a long time. Finally I decided to come in.
Tell me what it was like when you first came here to the office?
Later on, they were so polite when I came in. They made me feel comfortable. They gave me a little cookie, or they asked me for potato chips or something so they could help me with my snacking. When I get out, I tried my chips in the car, and I say, "No, it doesn't taste good. Why do they burn on my tongue?" Then I said, "Oh, this is the right place. It works." [laughs] Yes, it works.
That was the SenPaste?
Yes.
Did the SenPaste work right away?
Yes, right away. I tried eating the chips after the appointment and I can't because it doesn't taste good. That is exactly what we need to get something because when we're so hungry or we've got a problem a nd we can't stop eating. But with this SenPaste you stop to eating because it doesn't taste like anything anymore. You say, "Why am I eating if I do not get any flavor?" Then I love it. I love this place.
Great. Tell me about the office staff and how they help you.
The office staff here is so polite. They ask me if you need something give us a call. Did you want to try the paste, come here we do I think once a week. I don't know, I've forgotten but they're so, so polite. They're so friendly, the doctor, you're okay. They check your body, your health, your lungs.
Other weight loss clinics that I went to said, "Oh, come back after a month." Here, they told me, "You don't feel good, give us a call." The first week they called me, "Hey, everything is okay? Do you feel good, is there any problem?" I say, "No." They're fantastic people.
What it's like now after you have lost weight versus when you started?
I feel so different. I'm happy. Now that it's true I feel so different. Before when I would try to go up and down the stairs it was hard. I would try to do it once or twice a day. Now I can go up and down many times. I feel healthy. The doctors have said everything is okay. My heart and blood pressure are good. Everything is good according to my primary doctor.
I get to be my better self. I have my your clothes and I feel great, "Now I can wear it." It's a lot different. It makes you feel better, happy. I am now working with the people at church. I help everybody because I feel like I can do it because I have lost weight. When I was so big, I'll say, "No. I want to sit down and do nothing." It was hard when I want to do something because I felt, [panting]. With two or three steps, [panting]. Now I feel really, really good and still I want to lose more weight.
Tell me about the program and eating regular food.
They give you the diet plan. It has to be 1200 calories at a day. You can follow the diet but sometimes I didn't. Only I eat if I had to go the the restaurant, I'd go. But I'd check, "I will get 600 cal. Okay. Not that. I can get it." I had to get to 1200 calories a day. That is great because you don't need to follow a special program that is hard to follow. Only you take care of what you eat. You can drink soda if you want it. But you see the calories. They're okay. I would drink my soda but I can't eat too much.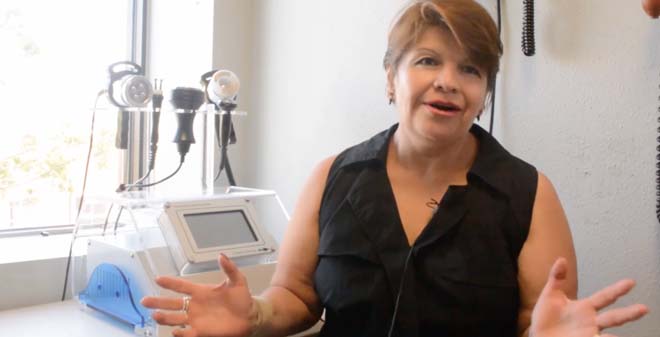 Overall, do you find it easy to follow?
On Sunday, I get a free meal on the diet plan. I eat whatever I want. I can go to the restaurant, and the doctor says, "Sunday is yours." Okay, but I take care. When I follow the program, I lose weight. When I don't follow it, I don't lose weight. Slowly, slowly. Before, you know the problems and the weight are gone. Before, I do this one diet, and I follow it for one week, and then I try another diet again next week. I want something, and I say, "No, I have to follow." This one, no.
How has your eating changed now that you are not hungry all the time?
The doctor gives you the medicine. The first time is hard because you are always eating and wanting junk food. The first week is a little hard, but you do it. The next week is easy one like 100%. The next one is 90%, the next one is 80%, then your desire goes down, down, down, down until you didn't want it. That is the big point.
When your body get it, it's like a transformation for your body. When you get it, it's easy. It's easy only you need to follow, follow. You don't go back because you'll say, "Okay, if I'll go back, I will get a little weight." Your stomach doesn't like you to go back. That is the best I think.
Is it easier to exercise now than before?
I do samba, before I walk but now I do samba and I feel so happy. I drink a lot of water and do exercise. Because you lose weight then your body is becoming soft. Then if you do exercise it keeps you in a good shape, then your body goes back easily. Exercise is better because you feel good and your body is start to coming back without any problem. Then the patients come to the doctor, do exercise, and drink a lot of water, that's it and be happy.
Schedule a Medical Weight Loss Consultation Today
New Patient Discount for Dallas Medical Weight Loss
Call the office of Dr. Michael Cherkassky today to schedule an appointment. Your first medical weight loss appointment includes a complete physical and medical history review. In the event that you have conditions that prevent you from receiving a prescription, Dr. Cherkassky will provide you with a customized weight loss plan to help you reach your weight loss goal quickly and without being hungry. Call his office today to arrange your first weight loss appointment.