RoseMary: Best Dallas Weight Loss Program Interview
Dr. Michael Cherkassky is a Dallas medical weight loss doctor who has been helping patients lose weight for more than 25 years. In this video, a patient talks about her experience with the weight loss clinic and the weight loss program.
How long have you been following this weight loss program and how has it been going?
I have been coming to this clinic and following this weight loss program for the last five months. I have done very well and have gone from a 3X down to an Extra Large.
What it was like when you first came into the weight loss clinic?
I heard the weight loss program from my daughter. She had been coming in and was starting to lose weight. So I decided to come here too and starting losing weight during the first month. It was awesome. I mean, I lost 6 pounds. It is an excellent program because I feel better than when I first started. I can walk more. I don't have heavy breathing. It has been a good experience.
What other things did you try, before you came here?
I have tried all kinds of things to lose weight. I've tried Garcinia. I've tried practically all the diet pills that they sell at Walgreens. Nothing that I tried was working. I was getting bigger and bigger. When I came here just, I just decided to try it. I am planning to stay on the program until I reach my weight loss goal and then I will probably stop.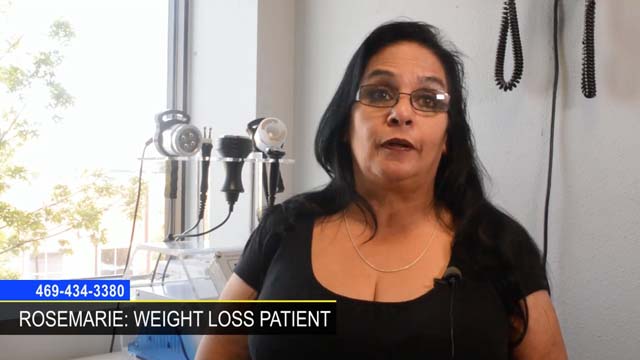 Was there a particular thing that made you decide that you needed to get help losing weight?
For me mostly, it was health reasons. I needed to get the weight off because I was a borderline diabetic. Diabetes runs in my family. I lost my parents to that, so I had to do something. Doing it on my own was not easy. I tried and tried. I heard about the doctor, and I decided to see him. He is an excellent physician. They help you a lot here at the clinic.
How did the doctor help you with dieting and diabetes?
He talked to me and told me what I needed to do, how I was supposed to eat, and general dieting. "Watch your calories." That was the main thing. I learned a lot from him. How to eat now, how to eat better. I stopped eating a lot of greasy foods, fast food, but now I've learned to eat better. The weight loss program really works.
I am alert now. I don't just sit on the couch. That's all that I was doing before. I was just sitting on the sofa, watching TV. The supplements help me feel less hungry, and they give me a lot of energy. They are outstanding. I have more energy now because I'm not as heavy. I can go outside and do things, like work on my plants. I'm delighted that I came to the weight loss clinic. It's excellent.
Dallas Weight Loss Program Interview – New Patient Discount
Are you able to exercise more now that you have energy and have lost some weight?
Oh yes. I can walk more. Before I could only walk two houses down and I'm out of breath. I have a dollar store across the street on West Berry; there are all these stores around, restaurants, so I walk. It's terrific.
Did you find that the program is difficult to follow?
This weight loss program is straightforward to follow. It's just watching your calories, count your calories. I am on a 1200 calorie day diet, and it's excellent. Sometimes I get in the mood, and I go over, but yes it's excellent. Just watching your calories is the key. I dropped the Cokes, and I drink a lot of water. Mostly, I eat at home. I eat a lot of fruits, vegetables.
Has the weight loss program changed the types of food that you want to eat?
Well, you can still eat what you want to eat. It's just smaller portions. You got to learn to eat smaller portions, which is just not hard, because on these pills, for me, after the third bite, I feel full. That's how they help for me. If I know, if I get invited, my son will take me out to eat, for dinner, On The Border, I'll take the pill before I go, the bottle of water, then I'm good. I get a plate of food, but I only eat very little because I feel full. It's like your stomach shrinks after being on a diet and then once you start eating, if you go out to eat, you're going to feel full right away. That's what I do. He's just a miracle worker with these pills.
The office staff is wonderful, and I've had no problem with them. They are very polite. They tend to your needs. Ask, "Do you need some water? Do you need the crackers? The stuff they put on their crackers. What are your cravings? Do you crave chocolate? Or, do you want cookies?" My thing was cookies. I liked baked cookies, especially at night, with milk. I don't know what they put on the cookie. I eat it. But I haven't eaten a cookie in the last two months. They put that, I don't know what it is, but it's good [laughs]. It works, whatever it is.
Learn More about the Dallas Weight Loss Program
To find out more about this Dallas medical weight loss program and to get answers to any question that you might have about weight loss, please call the clinic to schedule a weight loss consultation.